Dolly Llama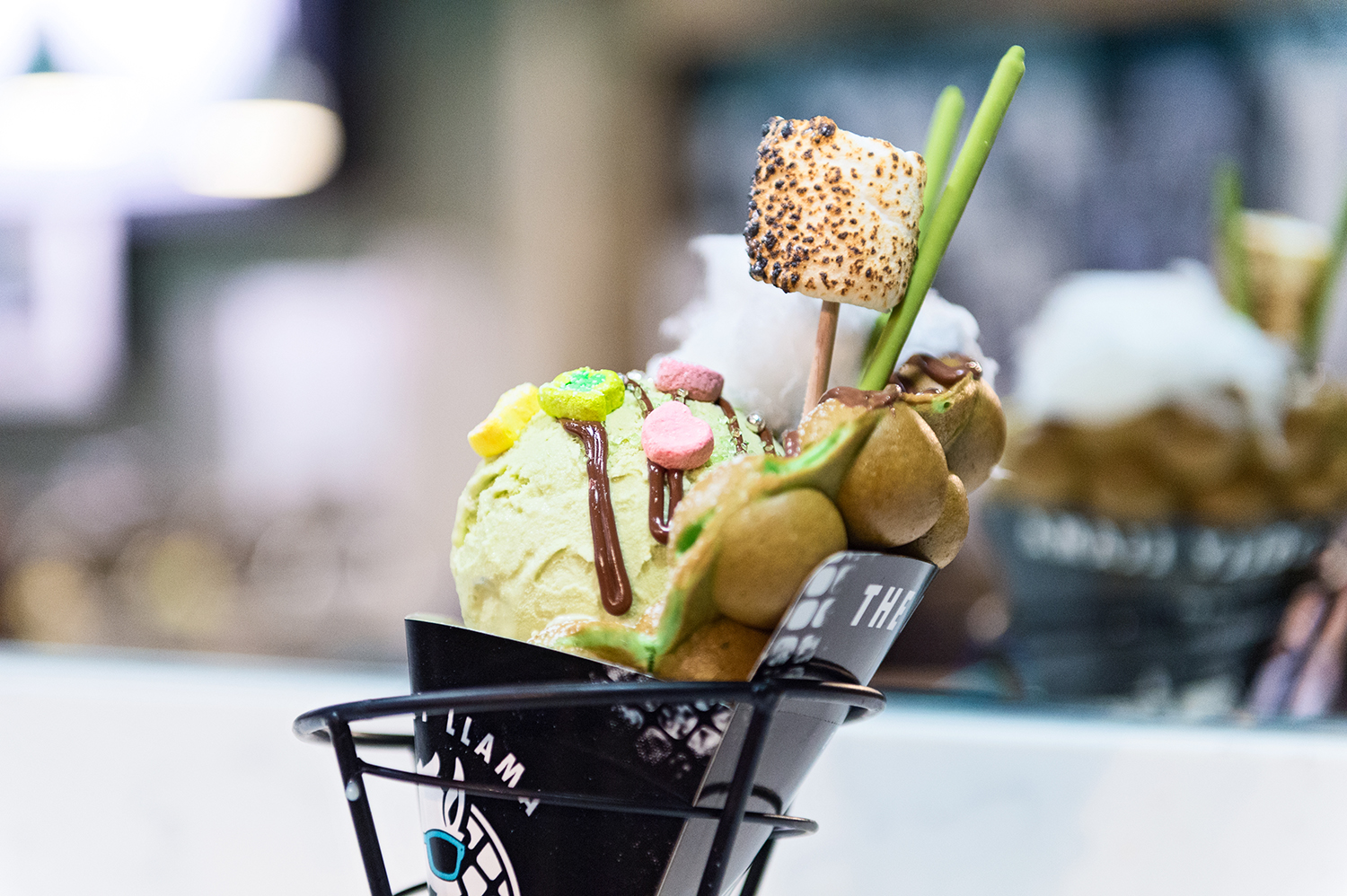 DTLA, Calif.— At 611 South Spring St., in the middle of DTLA's Historic Core district, is the dessert house and waffle confectionery, Dolly Llama. You might recognize this address! Its previous tenants were the once popular crepe parlor, Syrup. We're happy to welcome Dolly Llama to the neighborhood and find their waffles to be rather tasty, too!
There are three main categories of waffles to choose from when ordering. Up first is the special bubble waffle, which is moist and surprisingly flavorful! It comes with a full scoop of ice cream, which turns the waffle into a giant cone, as well as your choice of fresh toppings. For your convenience, there's a menu of preset combinations, but you can also get creative and customize yours personally.
A standard Belgian waffle with garnishes comes next— ice cream is additional. This was the one waffle we didn't try as we got stuck on a bubble frenzy (lol!), but by all accounts it's one of the most popular items on the menu. Looking forward to tasting it with some crazy treats and ice cream next time!
Third... the waffle stick... just like a popsicle, or corn dog, waffles on sticks make consumption simple and enjoyable. Whereas the classic waffle or bubble are thick and fluffy, this one has a unique crunchy texture with soft middle bits. We chose nutella, mango and coconut to top it off. It was devoured in mere minutes by our friends. You can add ice cream separately since it is a little difficult to handle on a stick.
Overall, we recommend venturing to Dolly Llama to get your nightly sweet tooth satiated. Its late hours— closing at 12am— makes visiting a waffle master the perfect idea after catching a show with a squad or your honey bunch.
We shot a few questions over to Dolly Llama's owners, wondering what inspired its creation, their dedication to waffles, and of course, why a Llama mascot? Here's what they had to say!
Q. What is the inspiration behind Dolly Llama?
A. Sam Baroux, Dolly Llama owner and restauranteur, in the South of France, had always wanted to open up something unique in L.A. Although the bubble waffle was known in other parts of the world, he wanted to introduce it to L.A. in a way that was different, beautiful, delicious and creative. It allows customers to channel their inner child and customize their unique desserts to their liking.
Q. How did you decide on the Llama as your mascot?
A. We loved the play on words. The Dalai Lama is a master of kindness and wisdom, while our Dolly Llama is the master of waffles and happiness!
Q. Can you tell us more about your waffle recipes?
A. Our recipes are based on a 2000+ year old waffle recipe founded in Belgium where our original waffle masters did an extensive training before coming to L.A.
Q. What are your signature dishes?
A. Our signature dessert would be our bubble waffle followed by our waffle stick!
Q. How has the reception been from the public?
A. The public reception has been great! Customers have really seemed to enjoy the entire process, from interacting with our space, taking numerous selfies, creating their creations and digging to indulge!
Q. Anything special you'd like the Downtown community to know about Dolly Llama?
A. We are your local waffle master and we are here to stay! Come and enjoy with us, bring the family and friends and we'll be sure to always treat you like family!
Q. Are you offering any deals to DTLA customers?
A. Yes, we usually have specials going on so make sure to ask while you're there.